We've updated CrazyLens, adding a new filter – Solarisation – essentially a reversal in tone of your image – dark areas are light, light areas are dark, but the color is generally preserved. There isn't any special configuration for this effect.
Here's what it  looks like: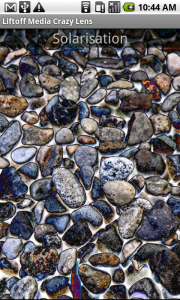 This is a free update for users that have bought previous versions of CrazyLens – just fire up the Market application on your device, click the menu button, select My Apps, and click Crazy Lens to download and install the update!